This shop has been compensated by Collective Bias, Inc. and its advertiser. All opinions are mine alone. #NatureMadeHeartHealth #CollectiveBias
For those of you who are taking Nature Made® Omega-3 fatty acid supplement, you may notice that the labeling on the bottle has changed! I was at Walmart and saw that the previous "Fish Oil" labeling has changed to EPA/DHA Omega-3 Fatty Acids. Let's talk about why the change happened, what the benefits of EPA/DHA are, and some key facts about taking Omega-3 supplements.
(Hover over the image to purchase these supplements for yourself!)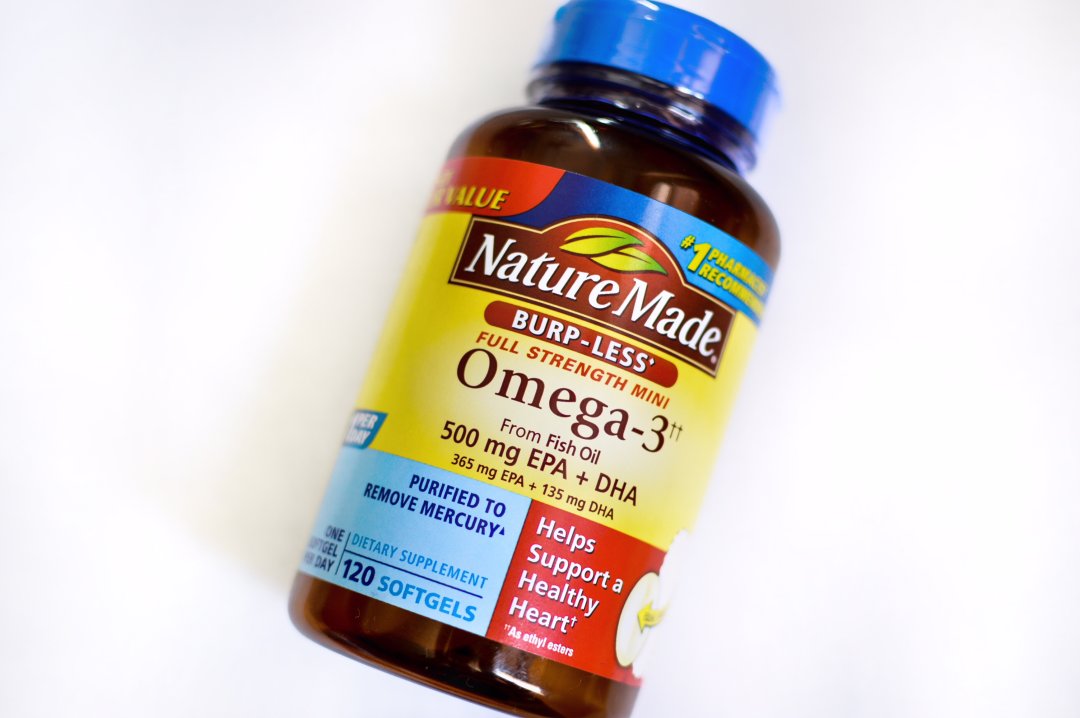 Are you looking for fish oil at Walmart? You can find a selection of Nature Made® Omega-3 supplements, including Nature Made® Omega-3 Full Strength Mini, 500mg EPA+DHA, Burpless, that now tell you how much EPA and DHA are in each dose! Also, Nature Made® is the #1 Pharmacist recommended vitamin and supplement brand*​
Why the change in labeling?
To make it more apparent as to what is in the bottle, Nature Made® has specifically changed the label for your benefit. It is actually the EPA and DHA Omega-3's from fish oil that matter. These are the active ingredients in fish oil that provide heart healthy benefits†​.
Walmart is trying to make it easier for shoppers to navigate amongst the other "fish oil" supplements in the aisle. To ensure that the shopper has found the right one, they changed the labeling to be clear on what they are receiving.
What are the benefits of EPA and DHA Omega-3's?
The two primary Omega-3 fatty acids found in fish are EPA and DHA. Omega-3 fatty acids are healthy fats that should be included in most people's diets; are are found naturally in fish oils.  The Omega-3's found in fish oil (EPA and DHA) have been studied extensively for their roles in supporting heart health. 1-2,†
In fact, there has been so much research showing the link between EPA/DHA and heart health support that the FDA approved a qualified claim that "supportive but not conclusive research shows that consumption of EPA and DHA omega-3 fatty acids may reduce the risk of coronary heart disease." 3
Key facts about taking Nature Made® Omega-3 supplements:
Nature Made® offers many "burpless" Omega-3 items. This is a plus for those who do not want a fishy aftertaste that results from a lot of fish oil supplements!
Nature Made® Omega-3 items are purified to remove mercury‡
Nature Made® fish oil supply comes only from wild caught ocean fish, and not farm-raised fish.
No color added.
No artificial flavors.

Now that I have shown you the new Natures Made® Omega-3 supplement labels from Walmart,  I encourage you to watch a quick video from Nature Made® to learn more about your Heart Health and Omega-3 supplements. (Text "OMEGA3" to 555888)
I hope that you feel more confident to shop the Fish Oil section, knowing what to look for on the labels now! Nature Made® has a great selection to choose from at your participating Walmart! Look for the "Omega-3" title on the label front.
* Based on a survey of pharmacists who recommend branded vitamins and supplements.
1 Delgado-Lista J, et al. Long-chain omega-3 fatty acids and cardiovascular disease: a systematic review. British J of Nutr. 2012;107:S201-S203.
2 Mozaffarian D, Wu JHY. Omega-3 fatty acids and cardiovascular disease. J Am Coll Cardiol. 2011;58:2047-2067.
3. U.S. Food and Drug Administration. Summary of Qualified Health Claims Subject to Enforcement Discretion: Omega-3 Fatty Acids & Coronary Heart Disease. Accessed 15 March 2017. https://www.fda.gov/Food/LabelingNutrition/ucm0739…
‡State of the art purification processes remove PCB's, dioxins and furans, and mercury to ensure purity levels below 0.09ppm, 2 ppt WHO TEQ's, and 0.1 ppm respectively)
†The statements have not been evaluated by the Food and Drug Administration. These products are not meant to diagnose, treat, cure or prevent any disease.